This is a low carb version of the African Fufu (also known as swallow) made with cauliflower. Fufu is a very popular and versatile West African dish eaten with a rich, thick soup and decorated with different types of meat (beef, goat, lamb, fish, you name it).
One of the things that made me nervous about starting a low carb diet was that I would have to give up rice and fufu dishes. That was till I discovered this amazing cauliflower substitute which tastes so good, I have successfully gotten a few friends and family members eating this with glowing reviews and amazing results. It has only 10g net carbs compared to 50 or even 100g in traditional fufu dishes. Imagine eating fufu and all your favorite soups and not having any afternoon crashes while also losing weight?  Count me in!
For this recipe, you can use a head of cauliflower or buy the frozen florets. I especially like the frozen florets because not only do they keep longer, it's just quicker and more convenient. If you use the whole head of cauliflower, cut it into smaller florets. If you already have the frozen florets, microwave for a few minutes, till a bit tender, or skip this step if you have a really powerful blender.
I make mine two different ways; sometimes I add some palm oil to it for some variety and other times I just eat it as is. It's completely up to you which version you make.
Blend in a blender with about 2 cups of water. I like to blend on high till the cauliflower is completely pureed. Pour into a  cheesecloth or any semi-transparent cloth that will allow most of the water to pass through.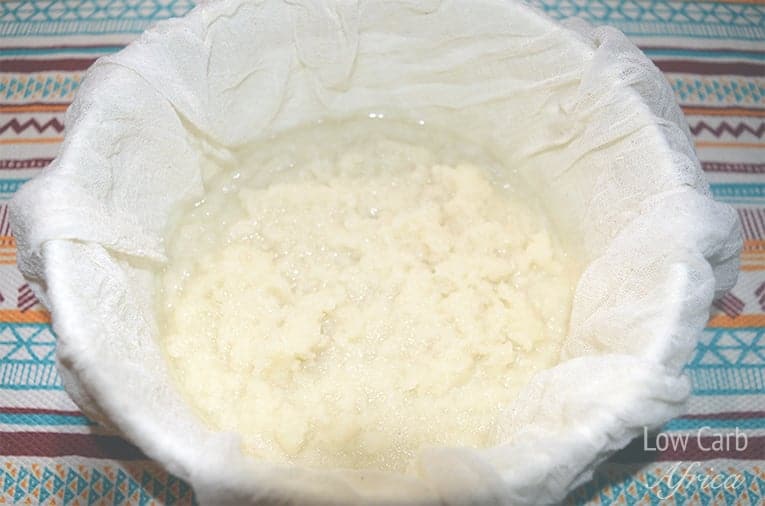 Fold the cheesecloth over and squeeze to drain the water added during blending. You might have to squeeze more than once but it's okay if some water is still left in the cauliflower.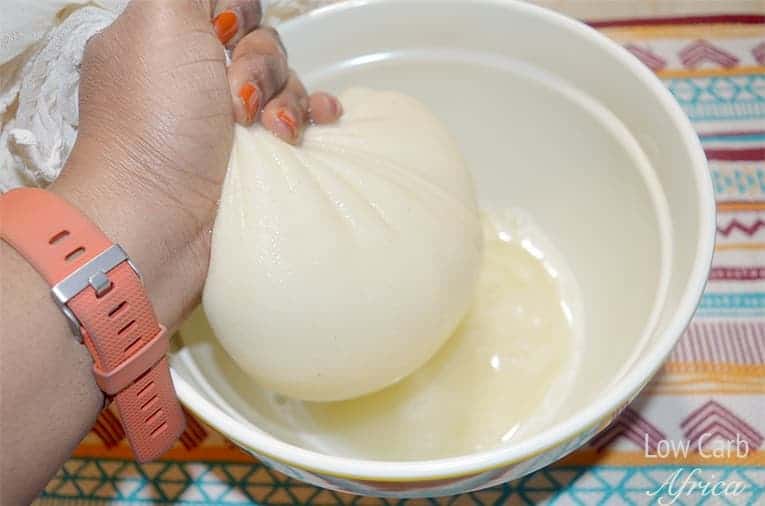 It should look something like this: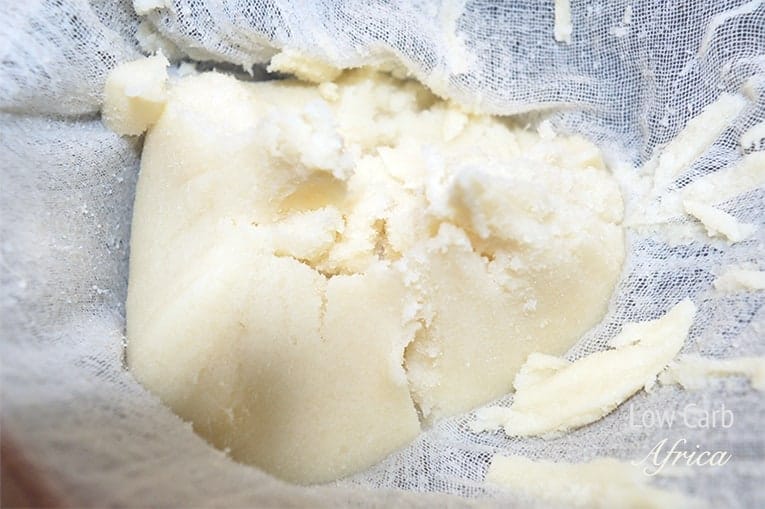 Now pour into a pot on medium heat and stir for a few minutes till it begins to thicken. Add the psyllium husk and stir with a wooden paddle.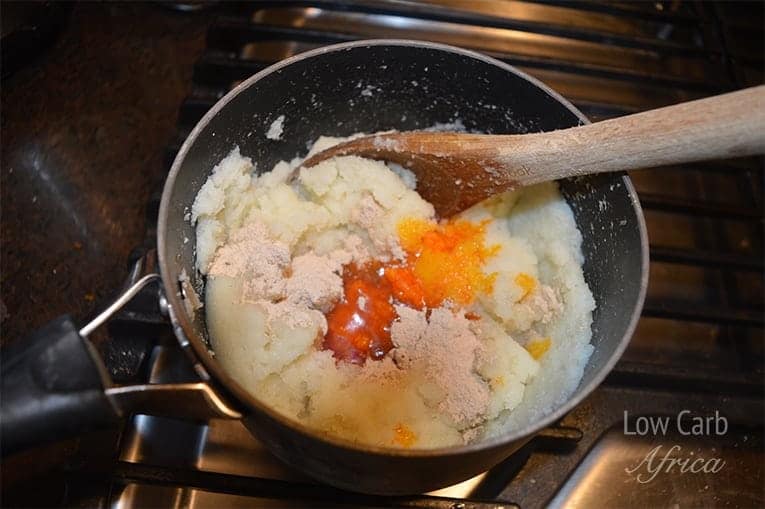 If you wish, add the palm oil and stir some more. This step is completely optional.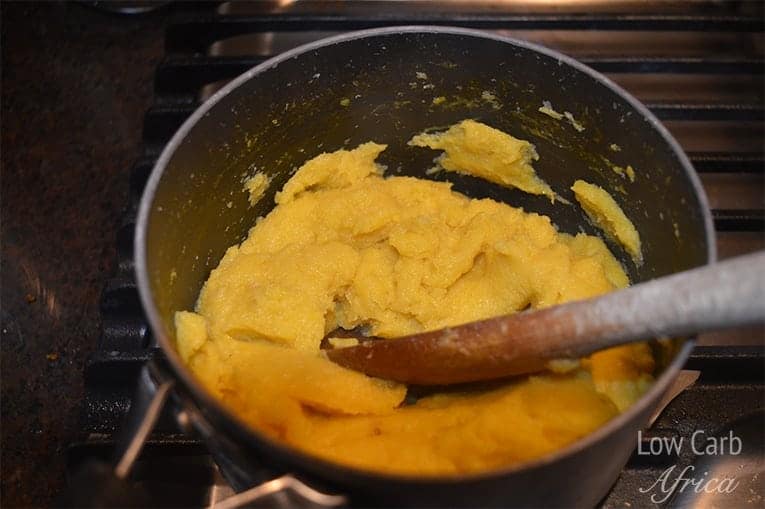 As you stir, mold the fufu into a roundish shape and when the consistency is like a paste, you know you're done. You can refrigerate for an hour if you want a firmer consistency or just eat as is. I like to eat mine immediately cos I usually can't wait!
This creates 2 servings depending on how much you want to eat. You can, of course, eat it all in one go, but I assure you, that will be very hard as this dish is loaded with fiber and you will be full about halfway through. Wrap in a plastic wrap and refrigerate. This will last 5 -7 days in the fridge.
Serve with your favorite African soup, like this delicious egusi soup, spinach stew or okro soup. Don't forget to check out our Eggplant Amala Fufu recipe for those days you just crave an Amala dish. Another great alternative is this Coconut Fufu recipe. Tastes amazing!
Print Recipe
Cauliflower Fufu (Swallow)
This African low carb, keto cauliflower fufu (swallow) recipe goes perfectly well with egusi and all your favorite soups. Just 10 net carbs!
Instructions
Cut one head of cauliflower into florets and wash.

If using frozen cauliflower florets, microwave for a few minutes until tender.

Put in blender and add water.

Blend on high.

Pour in a cheese cloth and drain.

Put in a pot on medium low heat and stir.

Add your psyllium husk and stir some more.

If you want, add a tablespoon of palm oil and stir to your desired consistency.

Refrigerate for one hour to harden up a bit.

Serve with your soup of choice. Yum!
Nutrition Facts
Cauliflower Fufu (Swallow)
Amount Per Serving (2 servings)
Calories 169
Calories from Fat 63
% Daily Value*
Total Fat 7g 11%
Sodium 86mg 4%
Potassium 859mg 25%
Total Carbohydrates 23g 8%
Protein 5g 10%
* Percent Daily Values are based on a 2000 calorie diet.